Princeton Packet Article: The Eco-Makeover
Green building as an architectural trend by Jill Ross, March 25th, 2008
Jennifer Bryson and John McGahren own a hybrid car, shop organic and local when possible, and are putting their Victorian farmhouse through a series of eco-friendly renovations that would make Al Gore smile.
Their house, located off Wertsville Road in Hopewell, will have a solar roof — like those topping their two existing barns. The couple is also investing in a geothermal heating and cooling unit that uses the Earth as a power source, and a peat moss "septic system" that filters wastewater to the point where it is, as Jennifer, who goes by Ms. Bryson McGahren, describes it, "almost drinking water quality."
The couple's environmental conscience may appear greater than most, but they're doing something that any American can identify with — saving mega bucks in energy costs. "No more oil coming up the driveway," Ms. Byrson McGahren says. "We're essentially energy-independent."
The move to "go green" is sweeping many communities. People who take global warming more seriously (partly thanks to Al Gore's Oscar-winning documentary, An Inconvenient Truth) are driving up sales on hybrid cars; purchases of Earth-friendly products are up, and homeowners are becoming more environmentally conscious when building or renovating.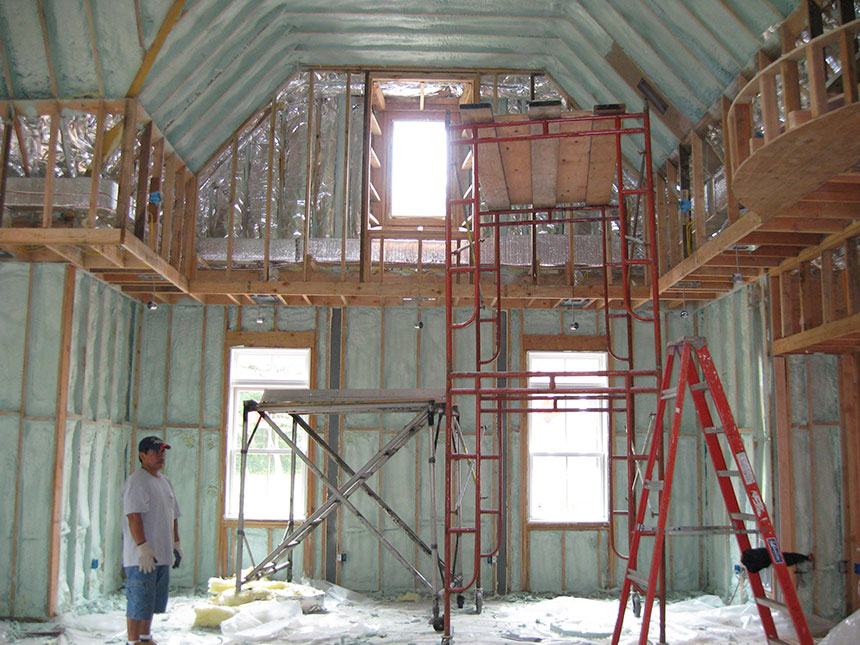 In one project, Lasley Brahaney Architecture and Construction in Princeton used superior closed-cell spray-on foam insulation, which significantly reduces heat and air conditioning energy consumption.
In fact, 91 percent of people surveyed by the American Institute of Architects in 2007 would be willing to pay $5,000 or more to build or buy a house that uses less energy or protects the Earth.
The U.S. Green Building Council defines a "green" home as one that uses less energy, fewer natural resources and fewer toxic chemicals. "They're all good reasons to go green," says Jim Baxter, whose company, Baxter Construction Co. of Princeton, is renovating the McGahren home. "The biggest draw for homeowners is using less energy — their bills are less."
Saving on energy costs
Given the meteoric rise in fuel prices, it's no surprise that energy efficiency tops the list of reasons for going green. With typical construction, homeowners often shell out money for fossil fuel that's literally going out the air ducts. "A tighter home costs less to heat and cool," says Mr. Baxter.
Using more energy-efficient Construction methods and materials to seal and insulate the "envelope" of your house (outer walls, ceilings, doors, windows and floors) can add up to a tidy 20-percent savings on heating and cooling costs, according to New Jersey's ENERGY STAR Program (njenergystarhomes.com)
Mr. Baxter says new, sprayedon insulation foams provide better insulation and are more ecofriendly, because they don't give off toxic gas like older materials.
Energy-efficient appliances — which use about 35 to 50 percent less energy than conventional ones — and water-conserving fixtures can also save a homeowner on their utility bills, plus provide them with rebates.
And the truly ecologically minded are going solar. Laura Sanders and Bill Stansley had their Hopewell home built in 1999 — a modular, well-insulated home modified to be passive-solar. "Since then, the industry has explored and New Jersey has one of the best programs for solar energy," Mr. Stansley says.
The system not only produces electricity to run the house, but it generates cash — about $1,000 a year — under New Jersey's netmetering policy. The policy allows the couple to sell their electricity back to the local utility. (The solar panels on the roof soak up the sun to power the house during the day and feed electricity that they don't use into the utility's electric grid. When it's dark, the house draws power from the grid.)
New Jersey homeowners can also receive a $2,000 federal tax credit and a rebate from the state to install a solar power system. Still, installation is expensive, costing $50,000 or more. But so long as you continue to live in your solar house, the system keeps paying for itself in lower electric bills. Mr. Stansley says the couple's electric bills in the summer cost about $2; their highest bill was $60. "It's also the patriot thing to do — become less dependent on foreign oil," he says
Tip: An online calculator was created by solar power advocates and the Department of Energy to help homeowners figure costs at findsolar.com.
The McGahrens, who will also be able to reap energy rebates, are going the extra mile to become energy independent. In addition to solar panels, their 1850s Victorian house will also have a geothermal heating and cooling system that Ms. Bryson McGahren describes as the "crown jewel."
A geothermal system taps into an energy source in anyone's backyard — the Earth's heat. Water passing through pipes laid deep underground picks up heat or deposits it before heading back to a heating or cooling device in the house.
The costs of a geothermal system are about twice that of conventional heating and cooling. Ms. Bryson McGahren says they're banking on a return, five to six years from now, in terms of energy savings. "And it returns and returns," she says.
Building versus renovation
The McGahren renovation isn't just about cool, new green technology; it's about adding space for a family of five. (And, in their case, doing something about an old house that was "falling down around us," says Ms. Bryson McGahren.) The couple looked for another house, but couldn't find anything they liked as much, and they didn't want to build a new one.
"It's certainly greener to simply renovate your existing home than build," says Anne Sax, an architect for Lasley Brahaney Architecture and Construction, a Princeton firm that's a member of the U.S. Green Building Council. Ms. Sax says it's also easier to build an eco-friendly house today, because more energy-efficient materials are available, and because architects and builders are more knowledgeable about building green.
"There are a lot of different players in building an eco-friendly house. The challenge is you've got to get everybody on the team to buy into it," she says.
That means finding an environmentally conscious architect and builder. Ms. Sax suggests checking to see if they've worked on green buildings or ones that have been LEED (Leadership in Energy and Environmental Design) certified. The U.S. Green Building Council's LEED rating is the gold standard for commercial green buildings. The council has recently come up with a rating system and guidelines for homes.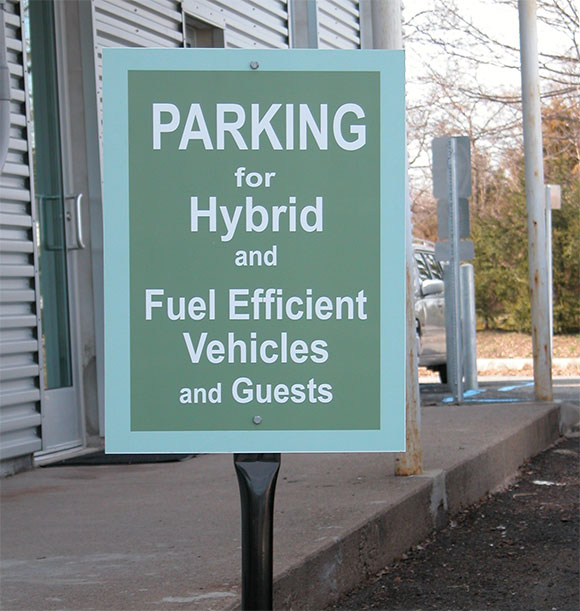 A shift in mentality: Lasley Brahaney provides special parking for those who use fuel efficient vehicles.
While an eco-friendly home costs more, Ms. Sax says there are practical measures you can take if you're considering building a new home:


Take full advantage of the sun by picking a southern exposure.
Take advantage of (or plant) deciduous trees to benefit from summer shade and winter sunlight.
Keep glass to no more than 25 percent of the wall area, if you're not building solar.
Both Ms. Sax and Mr. Baxter say don't overbuild — stick to a standard size. "Do you need the family room and second family room? That's a lot of wasted space that translates into stuff you have to heat and cool," Mr. Baxter says.
As for building materials, there's a wider choice of green products than ever before, from "green" glues and low VOC (volatile organic compound) paints, to recycled products, such as rubber and carpeting for flooring, and reclaimed or salvaged lumber.
The McGahrens used wood salvaged from an old barn for the construction of one of their barns, and they're using old flooring to match the existing flooring in their home.
"Certain people go the whole nine yards to be as green as possible. Most people pick and choose where they want to be green," Ms. Sax says.
Even the environmentally conscious McGahrens have had tradeoffs, balancing historic preservation with the needs of a modern family in their home renovation. So, instead of new windows, builders are reusing the old or recycled windows in the house — not the most energy-efficient decision, but still a practical one.
"We've tried to have it all, but it's tough satisfying all those criteria," Ms. Bryson McGahren says.
Reprinted with permission of Packet Publications © 2008