860 State Road Project Summary
Marc Brahaney and Janet Lasley, owners of Lasley Brahaney Architecture and Construction, purchased 860 State Road in Princeton, NJ in May 2007 with the intention of carrying out major renovations to the existing building. Early in the design process, they also decided to make their office a test run for designing and building according to sustainable green practices. Built in the 1950's with a modernist design, the one story concrete block building has been variously used for administrative banking, truck maintenance and light manufacturing. When Lasley Brahaney purchased the property it was in very poor condition. There was no insulation in the walls, all glass was single paned, there was minimal insulation in the ceiling, and all of the original, outdated HVAC equipment was still in use.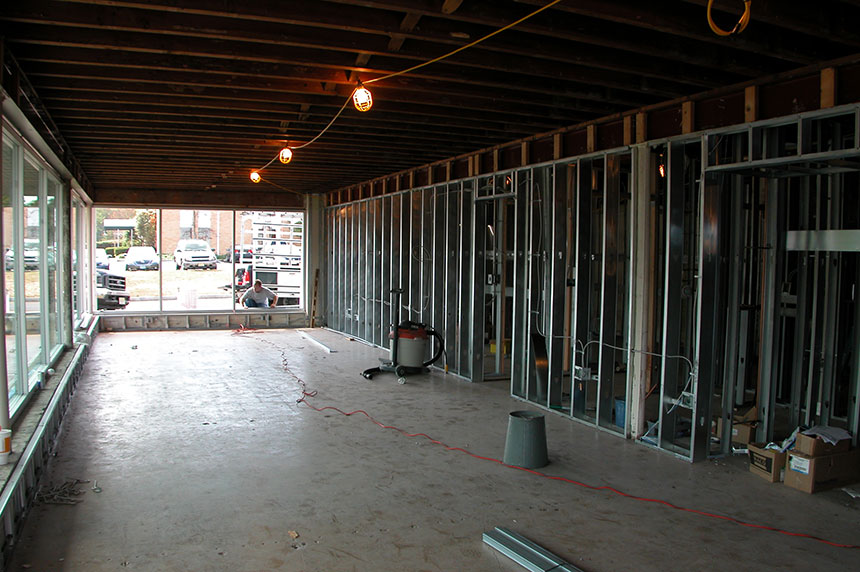 Marc and Janet held an open charette with all of the architects in the firm presenting their ideas for the project. After much discussion, it was decided that the renovations would preserve the 50's modernist design while updating all mechanical, electrical, and plumbing systems, increasing insulation, and changing the interior spaces to better suit the needs of the firm's architectural and contracting work.
The design of Studio 860 is intended to showcase the company's residential work, while maintaining a functional commercial space. Because of this, the front lobby/reception space with a conference table and small seating area was outfitted to appear like the living room and dining room of a home. In contrast, the open studio space in the back half of the building was designed to create a calm and inspirational space with minimal color, textural distractions, and abundance of natural light. The purity of the slab concrete floors and glass partitions, allows the designers to make spatial, material and color choices uninfluenced by their immediate surroundings.
The architects were extremely limited in the design modifications they could propose because the existing building violates numerous provisions in the current zoning code. They could not propose any additions, increase the height of the building, increase paved areas, or change the location or size of landscaped areas. Design thus focused on materials and interior spaces. A large section of the concrete block was removed from the North wall and replaced with windows in order to provide northern light for the design studio. Several interior walls were removed to create an open work space.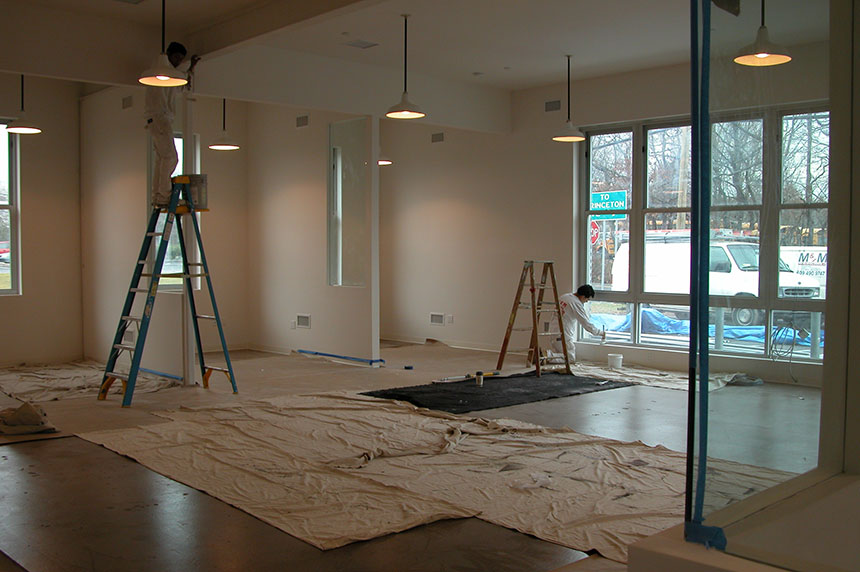 The companies' LEED credits reflect an interest in all aspects of sustainability. However, particular care was used when analyzing our options for achieving indoor environmental quality credits. Janet Lasley had battled cancer starting in 1997, so naturally indoor environmental air quality was an important consideration for the design team. All products selected for use on the interior had to be free of VOC's (volatile organic compounds), urea-formaldehyde, and other toxic compounds. The mechanical system is designed to draw in a relatively large amount of outdoor fresh air. Large operable windows ensure a comfortable airflow, plenty of outdoor visibility and generous day lighting.
It was also important to Lasley Brahaney that the office's energy consumption be as low as possible. In addition to selecting the most energy efficient equipment, the building envelope needed a lot of work. Four inches of cellulose spray insulation was added to the framed walls sitting inside the structural concrete block walls to achieve an R-21 insulation value and four to eight inches of continuous insulation was added to the deck of the roof to achieve an R-20 value. All windows in the existing building were replaced with double paned glass filled with argon to achieve U-values of .35.
A large incentive for following "green" principals in designing and building their new office was for Lasley Brahaney to become familiar with green products and practices. Their interest in green design was born partly out of a hope that their clients would request projects that are built according to environmentally sustainable practices.
Always looking for ways to change the status quo and make improvements, the company added a photovoltaic system (solar panels). This system included 44 solar panels and produces approximately 11,000 kw hours of electricity per year generating 11 SRECS (Solar Energy Certificates).
Lasley Brahaney is confident and proud that they have accomplished great strides in sustainability for Studio 860.