Lasley Brahaney Architecture + Construction Named NARI Regional CotY™ Winner
The National Association of the Remodeling Industry (NARI) names Regional CotY™ (Contractor of the Year) Winners for 2020
Princeton, NJ, February 28, 2020—The National Association of the Remodeling Industry (NARI) named Lasley Brahaney Architecture + Construction of Princeton, NJ, 2020 Northeast Regional CotY Winner in the Residential Additions Over $250,000 category in its annual awards competition.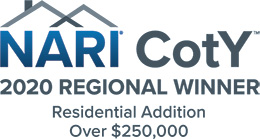 "We are very honored to win the CotY Award this year. The winning master suite addition met the client's desire for a luxurious spa-like retreat. I credit our talented architectural designers and custom builders for their exceptional work," said owner Marc Brahaney.
Each year, NARI presents CotY Awards to members who have demonstrated outstanding work through their remodeling projects. The CotY Awards are the highest form of recognition by industry leaders and peers. NARI received nearly 500 entries from across the United States representing over $138 million in remodeling projects.
"This year's submissions were outstanding, making the job of our esteemed judges very difficult," said Tracy Wright, Senior Director of Membership and Chapter Services at NARI. The judging panel representing industry experts, selected winners based on problem solving, functionality, aesthetics, craftsmanship, innovation, and degree of difficulty.
The CotY Awards allow us to celebrate our members who are committed to design, best practices, integrity, high standards, and professionalism. NARI will honor all Regional Winners and announce the National Winners at NARI's Evening of Excellence on April 24, 2020 at the TradeWinds Island Grand Resort in St. Pete Beach, FL.
About Lasley Brahaney
Lasley Brahaney Architecture + Construction has served the design-build needs of New Jersey homeowners for more than 30 years. The Lasley Brahaney team includes all architectural design and construction services under one roof. Our goal is to create a place that is yours, in every way possible—whether it is a new home, a large renovation, or a small addition. We strive to improve the quality of your family life in the spaces we design and build. Voted "Best Residential Construction Company" by BUILD Magazine, Lasley Brahaney consistently ranks in the Best of Houzz based on customer reviews.
About NARI
The National Association of the Remodeling Industry, or NARI, is the medium for business development, a platform for advocacy and the principal source for industry intelligence. NARI is an organization of high-quality remodeling professionals. Its members are committed to integrity, high standards, professional education, ethics and market recognition. NARI connects homeowners with its professional members so consumers have a positive remodeling experience with a professional, qualified remodeler.