Design NJ: Living Inside the Great Outdoors
June / July 2009 Writer: Elizabeth Eckstein, Photographer: Tom Grimes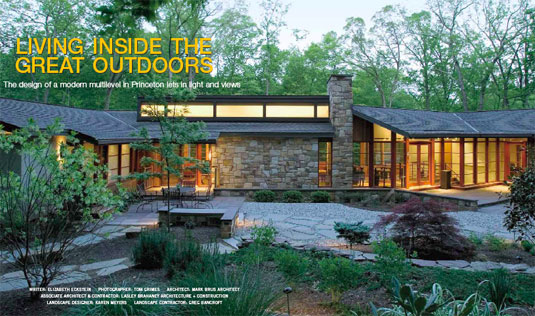 In less than half an hour, the expanded Cape Cod cottage on a Princeton lot had been reduced to a pile of rubble. Today, in its place stands a one-of-a-kind house of modern design that incorporates the slope of the treed property as well as sunlight and natural and man-made materials to blur the line between indoors and out.
From the street the house appears to be a cozy single story, albeit with stunning features such as a clerestory skylight. The back, however, reveals a bi-level with walls of glass and a prow-like balcony rimmed in steel.
The horizontal muntins of all interior and exterior windows (pine casings, red outside, natural inside) line up like a Japanese shoji screen house despite tricky changes in floor levels and roofline. Dry-laid native stone on the exterior and interior walls unites the house and counterbalances the delicate glass. Nature surrounds: illuminated xeriscape in front, forest and stream behind.
The owners wanted a home within a garden, not a home with a garden, and to design it they contacted Mark Brus, a Cambridge, Massachusetts, architect with whom they worked before. Wood, glass, stone, steel, sunlight, and views of the trees are the components he used.
Brus and landscape designer-partner Karen Meyers created a Far East-inspired landscape plan in conjunction with landscape contractor Greg Bancroft in West Windsor, and with the homeowners to integrate with stone retaining walls and planters, stepping stones, and paving around the front of the house, which the owners completed and now maintain.
Lasley Brahaney Architecture + Construction in Princeton was signed to produce the working drawings and serve as on-site contractor, with the Brahaney team there to execute the plans. The owners chose kitchen appliances, hardware, and more, filling their home with contemporary art, photography, African artifacts and textiles, 1940sand '50s-style lighting fixtures, and classic American and Scandinavian furnishings from their collection.
Let There Be …
Natural light flows through the 7,720-square-foot house like a river, starting in a glass-enclosed foyer that reveals the surprise of multiple levels: a staircase leading downward and a floating bridge on one side leading to an office, guest bath, and garage.
The light floods the formal 32-foot-long living room through a wide clerestory window in the cathedral ceiling and through the windows facing southeast down the hill. It bounces up from a continuous plane of quarter-sawn white oak flooring like a ripple-less pool around banquette and legged sofas and a pair of iconic KnollStudio Platner fiberglass and steel-wire lounge chairs.
The focal point is a fireplace with a hearth of slate and a huge surround of dry-laid Germantown mica abutting pale green glass tile. Overhead, clear-finished tongue-and-groove cedar (also used on the exterior to face broad, overhanging eaves) spotlights the fireplace and the doors leading to the steel-framed deck and its view of terrace below and trees beyond.
Exterior windows bring in the light, and interior windows spread it. The light funnels down two impossibly airy steel Brus-designed staircases with open risers, open oak-capped railings, and treads of white oak. The white oak continues as flooring throughout the lower-level dining room, kitchen, and informal living room.
The staircase from the foyer is anchored to a steel beam buried in a wall. The one in the middle of the house is screened from the kitchen by frameless ribbed-glass panels with invisibly mounted, cantilevered oak display shelves underlighted with halogen strips.
In the kitchen, the white oak flooring sprouts an island and cabinetry loaded with a microwave/convection oven, warming drawer, dishwasher, and more — their only ornamentation being the grain patterns laid horizontally and vertically. The range hood is suspended rather than wall-mounted and is operated remotely. One section of the Atlantic green granite countertops is jacked up to hide the cooktop from the adjacent dining room. Above, opal-glass semirecessed lights in the cedar soffiting add sparkle.
The way the white oak, glass, and native stone meet in the less formal lower-level family room evokes the spirit of Frank Lloyd Wright in scale, materials, and light. A wall of stone corners a wall of windows, making a perfect setting for examples of the owners' classic furnishings. Gable glass snuggles under the roofline, providing light and privacy. A smaller version of the upstairs fireplace holds forth in another corner. Glass doors lead outside to a stone terrace, a small lawn, the span of trees, and a little stream at the far end of the property.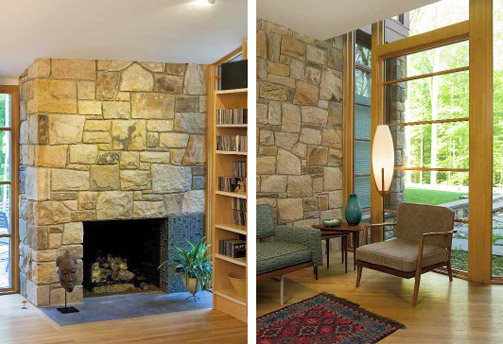 Left: A fireplace of dry-set native stone and glass tile with a slate hearth abuts wood in the lower-level living room adjacent to the kitchen.
Right: Walls of stone and glass tower over examples of classic furniture design, evoking the essences of architect Frank Lloyd Wright and a Japanese screen house, the philosophies of both being to bring the outdoors close — elements of nature as well as the view. A bit of manicured lawn contrasts with the unruly forest at the rear of the property.
Limestone joins the lineup of materials in the home's three bathrooms as wall tile, countertops, and flooring, with each of the three accented by a wall of glass tile, cedar soffiting, white oak cabinetry, and frameless mirrors and shower doors. In the kitchen-level master bathroom, intricate wood-to-stucco connections were made for a custom Japanese-style cedar soaking tub with platform and bench. Two skylights and a variety of windows, including a frosted one in the shower chamber and an aesthetic-flow-enhancing slot window into the chamber, do their duty.
For all of its beauty and ingenious features, the simple success of the design is that it brings the outdoors in, via the views, via the natural materials, via the light.
This article was reprinted with permission from Design NJ.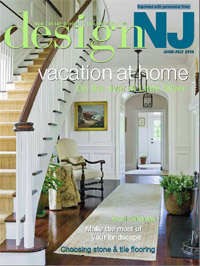 Elizabeth Eckstein, a regular contributor to Design NJ, writes from her home in Austin. See her website at www.ineedwritinghelp.com.
SOURCES Overall: architect, Mark Brus Architect in Cambridge, Massachusetts; architect and contractor, Lasley Brahaney Architecture + Construction in Princeton; landscape, Karen Meyers of FoxGloves Landscape Gardening in Cambridge, Massachusetts, Greg Bancroft in West Windsor, and the homeowners. Kitchen: cabinetry, Royal Cabinet Co. in Hillsborough; range hood and sink, Handcrafted Metal Inc. in Austin, Texas; ribbed glass panels, Bendheim Glass Corp. in New York City; appliances, Thermador cooktop, Sharp microwave/convection oven, Bosch dishwasher; opal-glass semirecessed lighting fixtures, Louis Poulsen in Fort Lauderdale, Florida; halogen strips, Juno Lighting Group in Des Plaines, Illinois. Staircase: designed by Mark Brus Architect and manufactured by Tri-Steel Fabricators in Trenton. Master Bathroom: cedar-platform soaking tub, Roberts Hot Tubs in Richmond, California.