PM Magazine: Board by Board
by Gwen McNamara, photo by Frank Wojciechowski.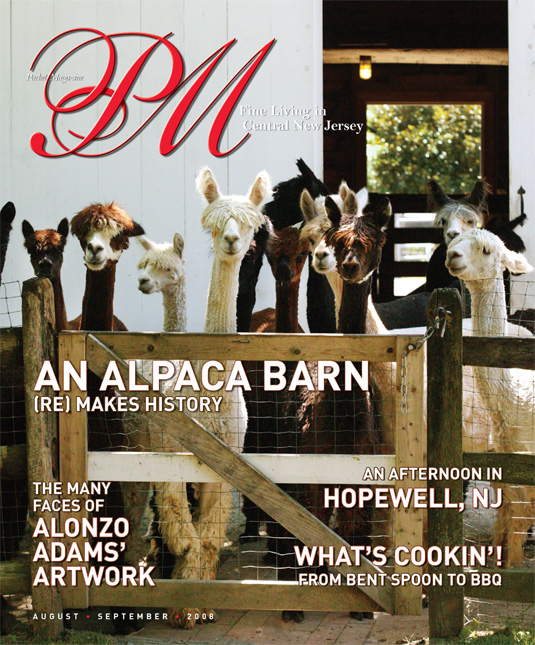 Meadowgate Farm shows off the pieces - and promises - of historic restoration.
To some, barn is just a utilitarian structure - a vapid space housing equipment, livestock or storage.
But not to the Rosenbergs. Looking to expand the capabilities of Meadowgate Farm in Lawrence Township, Diane and Leon Rosenberg decided they wanted something more for their property - and their sprightly alpacas. Alpacas?
Yes, wind your way up the farm's serpentine driveway and you'll see them in meadows throughout the property, their long necks peeking over the fences, their curious gaze affixed on visitors
One of the structures that now houses these friendly creatures is indeed a resurrected piece of history: a collaborative project to rebuild a 150-year-old barn that once stood on the Kirkbride Farm in Newtown, PA, but had been disassembled by The New Jersey Barn Company in 1987 to make room for condominiums.
Looking to imbue their farm with a little more heart, in 1997, the Rosenbergs visited The New Jersey Barn Company in Princeton, where they rifled through detailed drawings and scale models before selecting the Kirkbride barn for its clean lines and simple charm. "It was the right size, the right style and overall in keeping with the time frame of our farm," says Ms. Rosenberg. "Our farm started in the early part of the 20th century as a cattle farm, and most recently served as a horse farm, so most of the structures here are not new. Once we discovered we could not fix up our equipment barn as we originally promised, we knew we wanted a solution that was in keeping with the property and would pick up the old qualities already present here."
Excited about the prospect of the Kirkbride barn, the Rosenbergs searched for someone to help adapt it to their needs. Having previously recruited Marc Brahaney, partner and architect with Lasley Brahaney Architecture and Construction, now based in Montgomery, to "completely redo" their Victorian-era farmhouse residence, he seemed a natural choice for the gig.
"It was all about collaboration," Mr. Brahaney says. "We recreated the foundation. The (New Jersey) Barn Company retrieved all the hand-hewn beams and internal pieces from storage and reassembled the skeleton. We took it from there - designing the skin and fit-out, electricity, plumbing, etc. for the new addition."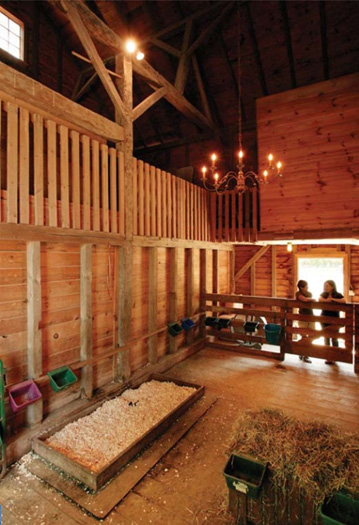 The new structure was to include a home for the farm's young female alpacas, the farm's main office and an apartment for farm workers; melding such different functions proved challenging.
"Oftentimes when you're working with a structure like this, a lot gets covered up on the inside," says Mr. Brahaney. "That didn't feel right here."
"The macro challenge was obviously remaining true to the original structure, making sure that the living space and office retained a barn-like feel," he adds. "The micro challenge was that structures like this aren't built exactly, they're out of square, out of plumb, out of level. But that quirkiness is what makes them special."
Stand inside the Rosenbergs' barn today and it looks like the team got it right. Between 80 and 90 percent of the original structure is visible, from marks of wear to hand carvings on the exposed wooden beams. A simple chandelier illuminates the double-height space, highlighting open storage on the second floor.
The adjoining Lasley Brahaney addition, home to Meadowgate's main office, seamlessly blends past and present with a continuation of the barn's concrete floor and matching woodwork. The space has been decorated floor to ceiling with ribbons, awards and alpaca-felt wall hangings handmade by the Rosenbergs' daughter-in-law, Diana Clark.
Outside, the foundation is comprised of concrete block faced in a veneer of local stone, with beveled cedar siding, Marvin windows and fiberglass-shingle roof.
"Innovations in heating, cooling and plumbing technology meant the boiler, ductwork and pipes could be smaller, enabling us to keep so much of that hidden," Mr. Brahaney says of the technical aspects of the project. "It's an elegant barn. Inside and out we kept it simple, making sure we didn't get too fussy with the materials."
The project, completed in summer 1997, took just five months to finish, and the barn - now equipped with solar panels on the roof - is the perfect sustainable addition to the farm.
"For a girl who grew up in the suburbs of Chicago, I never expected to have all this," says Ms. Rosenberg, gesturing at the menagerie around her. With nearly 180 alpacas, a couple of cats, Winston the Australian shepherd and two peacocks, she and her husband, a human geneticist and lecturer at Princeton University, certainly have their hands full. "And we couldn't be happier," she adds.
For more than 25 years, The New Jersey Barn Company has given more than 100 threatened barns new life as custom homes, museums and more; visit njbarnco.com for more information.