10 Top Backsplashes to Pair With Soapstone Countertops
July 4th, 2015
So you've decided you want soapstone counters, but you have no idea what kind of backsplash to pair with them. Well, you've made a great choice — people have been using soapstone for thousands of years, but its most ringing endorsement came from Julia Child. Because of its heat resistance, you can stick a hot pot right on it. And you don't have to worry about those red wine rings that stain other materials.
Soapstone often has a greenish-gray cast, or goes into darker grays to practically black, with beautiful whitish veins.
Because soapstone started to gain popularity in the United States in the 1800s as a durable and economical material, it's well suited to many historical renovations. It feels right at home in farmhouses and Victorian-era, Arts and Crafts, Craftsman and Prairie-style homes. It also works well in modern and contemporary spaces. Here's a look at some of the best ways to pair a backsplash with this popular material.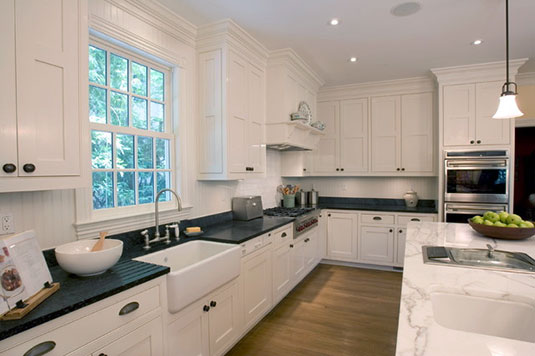 Beadboard. This classic detail is popular in traditional and eclectic homes, especially if you're going for a farmhouse or cottage look. In this kitchen, the sink and bin drawer pulls also contribute to the farmhouse look. (view this project)
Read the full article on Houzz
- Becky Harris, Houzz Contributor