Princeton Packet Article: A Green Midlife Crisis
Diane Landis Hackett's December FAMILY BUSINESS column, December 11th, 2007
My husband's midlife crisis did not include fast women or shiny cars. He chose to follow his conscience and go where few have gone before him.
He had 48 solar panels installed on the roof of our home.
Not exactly a sexy decision. Nor, did it save us money (at least not yet). Solar panels are just as expensive, even with substantial government rebates, as a nice car.
No, this was about finally doing something about our concerns for the environment. After years of worrying about global warming and wishing we could conserve our natural resources, we did something about it. What a relief.
Now, our electricity bills have been reduced to the $2.30 service charge every month. We sell our energy for about $1,600 a year to companies that must pay for polluting in New Jersey. And, we get a tax credit of $2,000 a year.
But, we won't break even for about seven more years.
This is a questionable investment where our wallets are concerned. What if the technology changes? What if the sun doesn't shine? I ask myself, should we have bought a hybrid instead? Or, settled for a push mower and a rake?
As people are starting to invest in alternative energy, the costs and benefits of going green are beginning to make a difference.
Take the Lasley Brahaney Architecture + Construction team. They are coming down the home stretch on a green remodel of a new office space they plan on moving into in early 2008.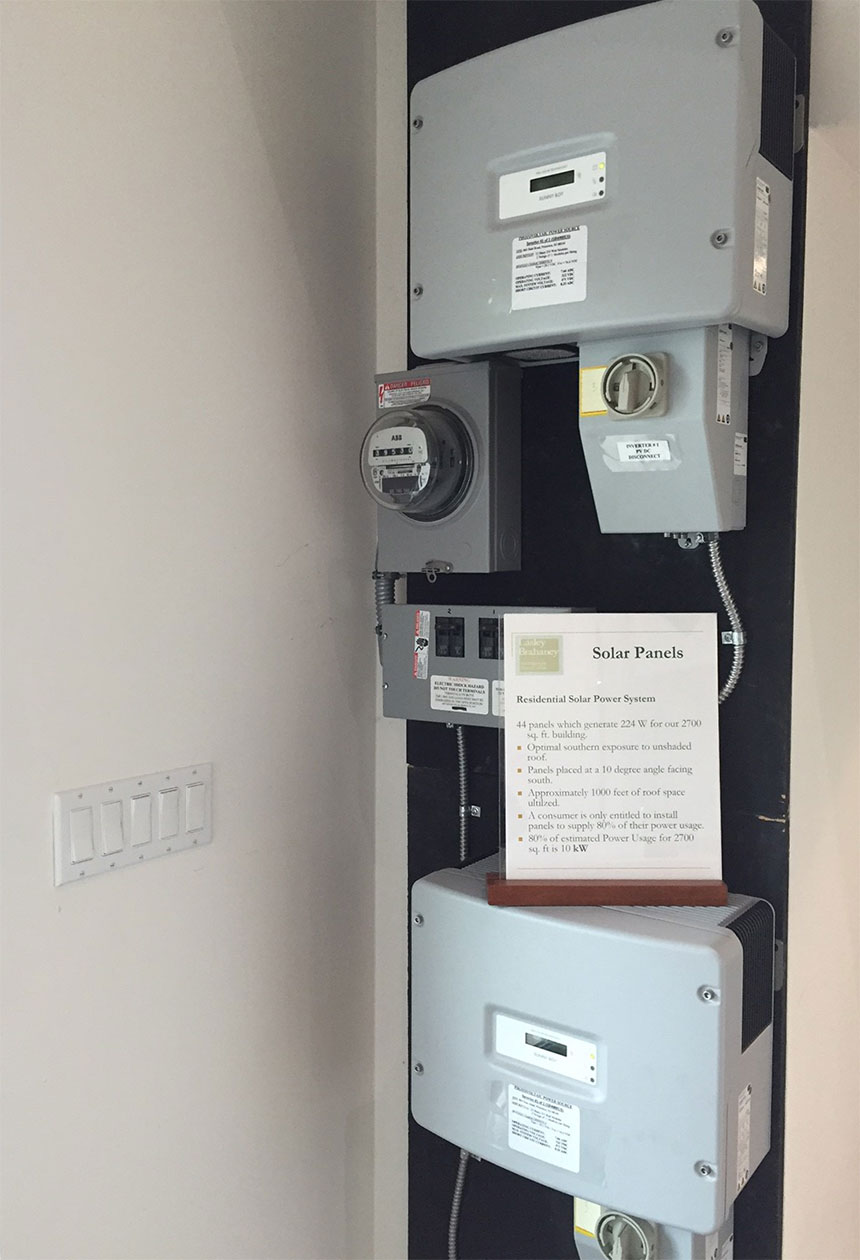 Their current windowless offices are in a nondescript building in Rocky Hill. But, they will soon inhabit a new sunlit, green space that is certified by the U.S. Green Building Council's Leadership in Energy and Environmental Design (LEED) program, a green rating system and performance criteria for sustainable building practices nationally.
"We are concerned citizens of the earth and we can now put our money where our mouth is," says Ms. Lasley, as her husband and business partner, Marc Brahaney enters the room.
The three of us immediately fall into a conversation remembering our wake-up call in the 1970s when gas prices shot up and recycling crept into the household regimen. We pondered the catch-all phrase of this era, sustainability, which seems to encompass everything from buying local in the food world to recycling building materials and installing super high efficiency heating and air conditioning units in the construction trade.
As far as sustainable construction is concerned, the momentum is growing, the number of options are increasing, but the demand remains low according to the Lasley, Brahaney team. Which is why they decided to set an example and jump-start their knowledge of green building practices with their own office building project.
"This is still a new discipline in the construction world. We wanted to know if this was worth doing. We wanted to test it and develop experience," says Mr. Brahaney.
And experience is just what they are getting. They have taken an existing structure at 80 State Road in Princeton, at the corner of Cherry Valley Road and Route 206, and re-configured the building so it follows LEED standards as closely as possible. They are still attempting to "get their arms around the costs" of following the stringent LEED standards (it is suggested that the costs of green building should stay around 5 percent of overall construction costs). Mr. Brahaney agrees there needs to be more cost benefit analysis as the American construction industry greens.
In order to be certified through LEED, the building receives points for every requirement fulfilled. This is no small feat. An example of the topic areas they must satisfy include: sustainable sites; water efficiency; energy and atmosphere; materials and resources and indoor environmental quality.
To satisfy these requirements, Ms. Lasely and Mr. Brahaney had to adhere to a plethora of standards. For instance, the site has to be accessible by bus or bicycle and include parking for fuel-efficient vehicles. The roof had to be replaced and shingles changed from dark to light colors to reduce the heat island effect and the outside plantings could only need watering the first year of growth. And this is just the beginning.
In the energy and atmosphere category, they have installed Energy Star efficient appliances to conserve energy and a 10 kilowatt photovoltaic system on the roof to supply some of their own energy. They also installed an automatic power shut-off system controlled by a timer that will cut off electricity to their lights and appliances — except for the central computers and refrigerators — when the building is not being used.
The team also recycled 75 percent of their building materials, used locally harvested and recycled wood where possible, and recycled their office furniture. In addition, they will use filtered tap water for drinking so as to minimize the use of plastic water bottles.
As far as indoor air quality, they used low volatile organic compound paint, original concrete flooring and products that do not contain formaldehyde.
And these are just a few of the less technical LEED requirements that they have followed. Whew, I thought reading our solar meter was complicated.
Aside, from the extra effort and money it has taken to follow the standards, Ms. Lasley and Mr. Brahaney remain eternally optimistic about going green.
"I want to see things done far beyond what we can do. We represent only a fraction of the housing market," says Mr. Brahaney.
"For us, this is quality of life. We can now participate in our own way and we can instill this in our children," concludes Ms. Lasley.
I am sitting at home. It's now the fourth day of gray skies and rain. The gas heat is on and so are the lights, everywhere, well, except for the fluorescents in the basement which have a crazy buzzing sound.
My husband runs through the house, turning off lights as he goes and murmuring like the White Rabbit about conserving energy. Then, he stops and stands still for a minute and brightens up.
"Hey, I guess I don't have to do this as much anymore. This electricity is free," he says. I give him a little smile. But, I don't say what I'm thinking. I'll wait seven years when our investment begins to pay us back.
Diane Landis Hackett lives in Princeton with her husband and two children. Her Family Business column appears monthly in Princeton Business Journal.